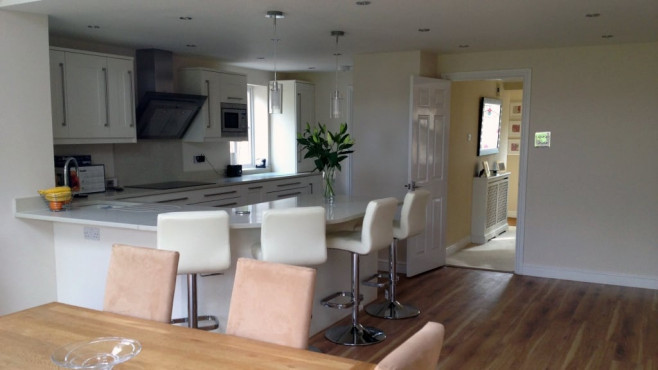 Extending your existing home could be the answer for that extra well needed space, if you are happy where you are living and do not need the hassle of moving it makes sense to have a free consultation to find out what can be achieved. We are carrying out extensions continuously and they are the most popular way to transform your existing home into the home of your dreams.
A fantastic job by Ricky and his team at Laurdan. This was a big job to transform a typical 1970's house into a contemporary and modern family home. We made many changes and added a huge amount during the build which Ricky accommodated brilliantly. We are so happy with the result and love the home that Ricky helped to create for us. We especially love our kitchen area which is a fantastic space. The project started and finished right on schedule. I would have no hesitation in recommending Laurdan for any building project.
Laurdan converted our kitchen and dining area into an open plan kitchen diner. We are very pleased with the final result and quality of the work. Ricky was very professional and helpful. Throughout the project Ricky was quick to respond and offer advice or solve issues that arose. We would use and recommend Laurdan.
Over a two year period, Ricky has transformed our house – through clever design and with great tenacity he completed our loft conversion and full decoration of the house in the wettest winter in years and always with a smile on his face. He is trustworthy, honest and reliable, phrases which are not always used for builders, but with Ricky, that is without question how he always conducts himself. We were delighted with this work and so we had no hesitation in asking him to return and design and fit our new kitchen, advising us on the latest appliances like a boiling water tap and 2-drawer dishwasher – how did we manage without them? Just the bathrooms to go and then Ricky will have completely refurbished our home!
Two years on and our family still love the extension undertaken by Ricky at Laurdan. Ricky made the whole experience as smooth and as straightforward as possible for us, as this was our first time undertaking such a big project. He took great care to discuss the build and our plans before any work commenced and kept us fully appraised of the schedule and the costs throughout the build. He was able to offer us advice and make some recommendations, which we ended up acting on as improvements to our original plans. Not only did Ricky do a fantastic job which exceeded all our expectations, the build came in on time and on budget and he has been on hand to fix any snagging. My husband and I are in agreement that we would have no hesitation in recommending him and indeed quite a few of our friends and neighbour's have already had work undertaken by him.
Laurdan undertook a ground floor rear extension for us, encompassing an open plan kitchen/dining/family room with additional playroom.  We are very pleased with the finished result and the quality of the work - it has made a real difference to the way we live as a family and we spend huge amounts of time in the new area. Ricky was on hand before, during and after the project and offered valuable advice and recommendations throughout. As we continued to live in the house with a small child whilst the work was ongoing, Ricky was careful to ensure that disruption was minimized wherever possible, which was very helpful.  We were amazed at the rapid progress of the project and critically for us; the project was completed within the agreed timeframe - just before the birth of our second child! Based on our positive experience, we have already recommended Laurdan to a number of friends.
Laurdan completed an extensive renovation project for us in 2017. It was a large project which entailed a double story extension plus loft conversion, including raising the roof. The entire inner layout of the house had to be redesigned and rebuilt to make the loft conversion possible. Ricky worked to schedule and the renovation was completed in approximately six months with no delays. Ricky made some helpful suggestions building on his experience to improve some of the original design to make our renovation even more practical. Ricky was also able to provide us with additional custom made bathroom furniture and built all our fitted cupboards as a certified Crown provider/fitter. In the end we were extremely happy with our new home and the work that Ricky and his team had completed. We would definitely recommend Laurdan as a trustworthy and reliable company.
Our house was transformed from a two bedroom stuffy terrace into a lovely three bedroom family home within three months! Ricky's project management could not be faulted with there never being a day when nothing happened. At one point our house looked like an episode of the "DIY SOS" TV show with plasterers in every room to ensure that it was ready on time for us. Being pregnant with a young daughter I was fully expecting a nightmare few months and I can honestly say it wasn't. I have recommended Ricky to a number of my friends and will continue to do so!
We are delighted with the space created by Ricky and his team. Our significantly extended kitchen that forms an open plan dining and family room has exceeded our expectations and is a fabulous addition to our home - we think it looks great both inside and out! The various trades were all very polite and respectful and the locality and knowledge of similar projects was a major factor when selecting Laurdan to undertake our work.
When Laurdan was finished with our loft conversion, I was amazed how naturally the new rooms and stairs fit in with the rest of the house. Every space was put to good use, including fitting a bathroom into a dormer window, resulting in a really welcoming living space. Next it was time to remodel the kitchen and Laurdan helped us open up our old dark kitchen into a stunning light and airy room with sweeping views of the back garden through bi-fold doors.  And with underfloor heating, the new kitchen is the kids' favourite place to be.